Exclusive first looks at new fabrics and leathers for furniture, along with reports on trends in style, color, construction, marketing, manufacturing and sourcing.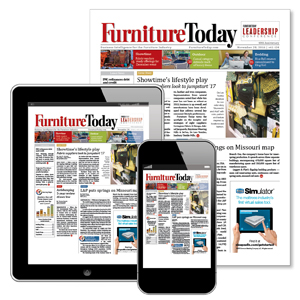 See the digital edition of Furniture/Today, which allows you to flip through the pages, click on any underlined area to visit a website or send an e-mail, search to find content in the magazine, or share pages with your friends. See the latest issue!
On the Slant

Erin Berg

August 30, 2016

Why would I want to go to north Mississippi? That's what I would have said if someone asked me if I wanted to visit the area before I started working in the furniture industry and covering upholstery. Sure, I've owned and loved upholstered furniture for as long as I can remember, but I never thought about where most of it comes from. But recently, I had the opportunity to see and feel what it is to make upholstered furniture and to gain an appreciation for U.S. manufacturing. Franklin Corp., Houston There is making furniture, and then there ...

In the Houzz

Guest Column by Houzz

August 24, 2016

Home Builders and Remodelers Confident, but Designers Less So

By Erin Carlyle, Houzz Home improvement pros have noticed an uptick in projects from homeowners across all age groups in the U.S. this year compared to last, as the latest Houzz Renovation Barometer shows, with particular demand from Gen Xers and baby boomers. The barometer index tracks industry optimism among architects, designers, general contractors and remodelers, design-build firms, building and renovation specialty firms, and landscape and outdoor specialty firms. Gains in the number of inquires and new projects, and the size of new projects, compared to the previous quarter have contributed to industry confidence. Many firms have reported an ...

On the Slant

Erin Berg

August 14, 2016

Will G20 Summit stop your traffic?

I just got word yesterday from one of my contacts at Scarbrough International, a full service logistics provider, that the G20 Summit is affecting cargo traffic in "core areas" surrounding Hangzhou, China where the summit will be held September 4-5. The areas being affected are Hangzhou, Huzhou, Jiaxing and Shaoxing. Container trucks cannot enter these areas without a government-issued permit. The transportation management rule prohibits "chemical, flammable, explosive products and dangerous goods express service and big cargo vehicles" from entering the Zhejiang province in the month of August. The Scarbrough report also indicated that between August 24 and September 6 ...
Las Vegas Market

July 30, 2017 - August 3, 2017

World Market Center Las Vegas

Las Vegas, Nevada , US

All American Furniture Expo

August 2, 2017 - August 3, 2017

Utz Building, York Expo Center

Lancaster, Pennsylvania, US

Next Conference

September 25, 2017 - September 27, 2017

Nationals Park

Washington, DC, US
More