Furniture management news and awards involving furniture manufacturers, retailers, suppliers, sales representatives and others in the industry
Kane's Furniture names Sutcliffe as CMO

Kane's Furniture has hired Bert Sutcliffe as chief marketing officer of the Florida-based retailer. More

Lynch Sales taps Walgram for events

The Lynch Sales Company has named Priscilla "Sam" Walgram as sales conductor to implement the company's Sales Events. More

Theodore Alexander names Heller chief creative officer

Upper end case goods and upholstery manufacturer Theodore Alexander has named Gregory Heller chief creative officer, a newly created position. More

Valkanoff retires from Mega Motion

Mega Motion/Windermere, a subsidiary of Pride Mobility Products Corp., announced the retirement of its managing director Dennis Valkanoff. More

Purple Innovation taps Watkins as CFO

Purple Innovation has named Mark Watkins as chief financial officer, effective immediately. More

Former Restonic licensee, Tom Comer, dies

Former Restonic licensee Tom Comer, who owned and operated factories here and in Fayetteville, N.C., died suddenly on Sunday. He was 54. More

Amazon's Bezos named to Logistics Hall of Fame

Jeff Bezos, founder and CEO of Amazon.com, was inducted into Logistics Hall of Fame during a ceremony at the German Transport Ministry here on Thursday. More

Dorel names Duran as juvenile segment president

Dorel Inds., has named Nicolas Duran as president and CEO of Dorel Juvenile. Duran has been acting as interim president since last November. More

Retired retailer, rep John Vignola dies at 84

Retired furniture retailer and sales representative John Vignola, remembered by industry friends for his professionalism, discipline and mentorship, died Sept. 21. He was 84. More

Maricich honored with Distinguished Service Award

Robert J. Maricich, CEO of International Market Centers, received the American Home Furnishings Alliance's highest honor, the Distinguished Service Award, on Nov. 3, during an awards dinner at the organization's Annual Meeting. More

Wittenberg named 2018 AHFA chairman

Bill Wittenberg, CEO of Klaussner Home Furnishings, was elected 2018 chairman of the American Home Furnishings Alliance Board of Directors during the organization's 2017 annual meeting on Nov. 3-5. More
Next
India Inspiration: Destination Design by Black Dog Salvage

Repurposed, reclaimed and refurbished materials from India are at the heart of a new furniture collection — Destination Design by Black Dog Salvage — coming to spring High Point Market. Get an exclusive behind-the-scenes look at the country that inspired a collection.

See Video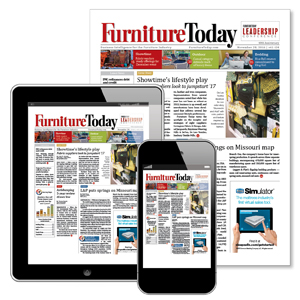 See the digital edition of Furniture/Today, which allows you to flip through the pages, click on any underlined area to visit a website or send an e-mail, search to find content in the magazine, or share pages with your friends. See the latest issue!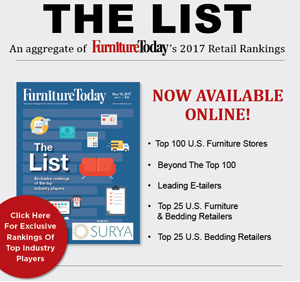 Get exclusive rankings of Furniture Today's top industry players including Top 100 Furniture Stores, Top 25 Bedding Retailers and leading e-Tailers. Get the stats now! Sponsored by Surya.
Furniture Everyday

Bill McLoughlin

November 2, 2017

Your best future customers may not be who you think

It seems sometimes that all anyone wants to talk about these days is Millennials. There are 80 million of them (possibly more depending on who's counting). They're already the biggest demographic in the market and are about to take over the purchasing world as they get jobs, set up houses and start having kids. You'd think they were the only customers that matter. They're not. Aside from the millions of still-buying Baby Boomers and the only slightly smaller and often forgotten Generation X, there's another highly influential, widespread and likely bigger-ticket-buying group you may be ...

From A Rep's Perspective

Mike Root

October 3, 2017

What will the industry look like in 5 years?

Here we are at another furniture market. My father Emmet reminisces about his early days going to 120 or so North Carolina markets, so my 35 years pale in comparison. But it's a long time no matter who's counting. There have been lots of changes over the years, but I don't think we've seen anything like the rapid changes this past 24 months. Retailers think about what they need to do to compete with the Internet players. Factories have to drill down efficiencies to compete for relevancy with major retailers. Faster deliveries, no questions asked returns ...

Design Between the Lines

American Society of Furniture Designers

September 28, 2017

"Design Between the Lines" Episode 113 Sarah Marriage

In this episode John Conrad highlights a maker-designer who is working to shape the face and future of woodworking; Sarah Marriage. Her award-winning work is beautiful, meticulous and thoughtful and has been shown at galleries and trade shows across the US. See the video below, or to download the podcast please click here .
Furniture Today Leadership Conference

November 28, 2017 - November 30, 2017

Four Seasons Resort

Orlando, Florida, US

Showtime Fabric Fair

December 3, 2017 - December 6, 2017

High Point, N.C.

Tupelo Furniture Market

January 4, 2018 - January 7, 2018

TFM Convention

Tupelo, Miss., US
More