Furniture management news and awards involving furniture manufacturers, retailers, suppliers, sales representatives and others in the industry
India Inspiration: Destination Design by Black Dog Salvage

Repurposed, reclaimed and refurbished materials from India are at the heart of a new furniture collection — Destination Design by Black Dog Salvage — coming to spring High Point Market. Get an exclusive behind-the-scenes look at the country that inspired a collection.

See Video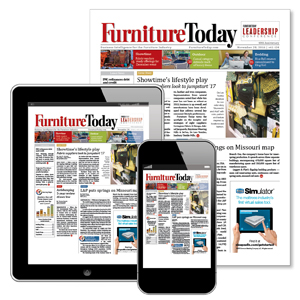 See the digital edition of Furniture/Today, which allows you to flip through the pages, click on any underlined area to visit a website or send an e-mail, search to find content in the magazine, or share pages with your friends. See the latest issue!
Furniture Retail Solutions

Over the past year, our editorial team has been on the road, studying retail – what's working and what challenges even the most established retailers face. Born from these studies is Furniture Retail Solutions – a multi-part series addressing common problems retailers face. Read our first two articles:
* Ergomotion increases retailer's profit potential with Motion Bedroom Furniture
* REM-Fit, by Protect-a-Bed, Outlines the Benefits of a Brand Store
Bedding Today

David Perry

September 12, 2017

Old issue provides timely look at Len Gaby's bedding career

While my old friend Len Gaby was in the final days of his battle with cancer, I was sorting through a big stack of old issues of Furniture Today. That stack, tucked into a corner of our bedroom for years, commanded my attention now that it was time for us to move to a condominium elsewhere in High Point. I flipped through the issues, assigning most to the discard pile, until I came to the issue of July 29, 2002. There on the cover was a picture of Len and Debbie Gaby of Sleep America, who were featured in my ...

From A Rep's Perspective

Mike Root

August 24, 2017

Wouldn't it be great if every time the job status of someone on your contact list updated, your contact list automatically updated. Some could argue that's what social media platforms are all about. Once a person changes a job they change their status on Linked In, and the whole world knows. But for that to be effective, two things must happen. First, the person must actually go in and change their status. If they wait a year, what good does that do you in trying to keep in touch? And second, the salesperson who can use the information ...

Design Between the Lines

American Society of Furniture Designers

August 9, 2017

"Design Between the Lines" Episode 109 Corey Damen Jenkins

Designer Corey Damen Jenkins (Corey Damen Jenkins & Associates, LLC) talks with John about the struggles of starting his own design firm and being discovered by HGTV, the mindset required for designing a licensed collection for today's consumer, and remaining humble in the midst of success. See the video below, or to download the podcast please click here.
Fall 2017 Ohio Hardwood Furniture Market

September 20, 2017 - September 21, 2017

Harvest Ridge

Millersburg, Ohio, US

Next Conference

September 25, 2017 - September 27, 2017

Nationals Park

Washington, DC, US

High Point Market

October 14, 2017 - October 18, 2017

Downtown High Point

High Point , North Carolina , US
More