Latest worldwide news for furniture importers, exporters, manufacturing, distribution and logistics.
Automated trucking, final mile and what's new with Amazon

With a wrap up from the 2017 Logistics Symposium, Editor in Chief Bill McLoughlin says automated trucking technology is around the corner, everyone is focused on the final mile and, with Amazon's recent Whole Foods buy, it is one step closer to bringing furniture into the fold.

See Video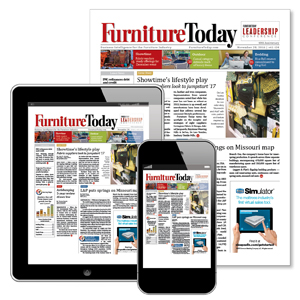 See the digital edition of Furniture/Today, which allows you to flip through the pages, click on any underlined area to visit a website or send an e-mail, search to find content in the magazine, or share pages with your friends. See the latest issue!
On the Slant

Erin Berg

June 26, 2017

A brand is not a singular thing that you do in marketing; it encompasses a number of things — both tangible and intangible — that comprise the soul of your company. What that implies is that there is a soul upon which to build a brand. Earlier in my career, I worked at ad agencies collaborating with the marketing department of companies in a variety of industries from aerospace to film and television. I can't tell you how many times we worked on brand development, and, in almost every case, it started with creating or redesigning a logo. It seems logical ...

Furniture Everyday

Bill McLoughlin

June 22, 2017

Organic eggs, Swiss chard and sofas, oh my!

What do Swiss chard, organic eggs and sofas have in common? They could all soon be ordered on and delivered by Amazon.com within a day or two, possibly within hours. The e-commerce giant's recent acquisition of Whole Foods opens up a whole range of possibilities for Amazon, not the least of which are more than 460 potential new distribution points across the U.S. in the form of Whole Foods store locations. (For more, see story on page 1). Now exactly how "soon" is soon and how fast the delivery will ultimately be are details that remain to ...

Furniture Everyday

Bill McLoughlin

May 11, 2017

Are you fast enough to compete in the coming speed-to-market war?

When consumers step into a furniture store or surf the store's website today, they're not just comparing it to other furniture stores or other furniture sites. Instead their expectations are being set by every other site they visit (retail, social media or otherwise) and every other store they enter. When the average consumer buys a piece of furniture and they're told it will take six, eight or 12 weeks, they're not saying to themselves, "Well, that's a week better than the other furniture store told me." What they're thinking instead is that most any ...
Las Vegas Market

July 30, 2017 - August 3, 2017

World Market Center Las Vegas

Las Vegas, Nevada , US

All American Furniture Expo

August 2, 2017 - August 3, 2017

Utz Building, York Expo Center

Lancaster, Pennsylvania, US

Next Conference

September 25, 2017 - September 27, 2017

Nationals Park

Washington, DC, US
More