News on furniture tradeshows, events and seminars with exclusive previews and live updates on new products and trends.
Heading into Premarket with news around the industry

Between the impact of Harvey and Irma, other industry news continues to mount: Arterian buys Standard, and Labor Day sales prove challenge. Meanwhile, retailers weigh in being prepared for the rough weather, and Clint Engel provides an update on Jim McIngvale's relief efforts in Houston.  

See Video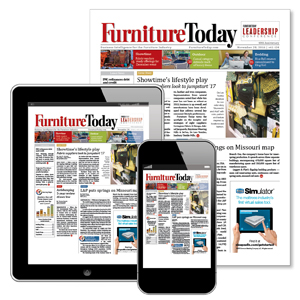 See the digital edition of Furniture/Today, which allows you to flip through the pages, click on any underlined area to visit a website or send an e-mail, search to find content in the magazine, or share pages with your friends. See the latest issue!
Furniture Retail Solutions

Over the past year, our editorial team has been on the road, studying retail – what's working and what challenges even the most established retailers face. Born from these studies is Furniture Retail Solutions – a multi-part series addressing common problems retailers face. Read our first two articles:
* Ergomotion increases retailer's profit potential with Motion Bedroom Furniture
* REM-Fit, by Protect-a-Bed, Outlines the Benefits of a Brand Store
Furniture Everyday

Bill McLoughlin

September 14, 2017

How to win the Internet in 3 easy steps

If only it was that easy. Every retailer today is wrestling with existential questions around the integration of e-commerce and digital marketing into established business models. There is no longer a debate about the need to play in these spaces, but many questions remain about the most effective steps to execute against that need: How can the store experience be integrated with the digital one? Does a larger digital footprint mean a smaller brick-and-mortar one? How can you own your market when consumers are free to shop across a national, even international, landscape? The retail furniture business today faces unprecedented ...

Furniture Everyday

Bill McLoughlin

September 8, 2017

Market events more important as industry challenges mount

If the furniture industry is going to show meaningful growth this year it's only because determined and resourceful people are making the tough choices necessary to achieve in a difficult environment. With a few exceptions, this year's business has been challenging, and every gain has been hard-fought. And at no time has that been more evident than the last few weeks leading into High Point Premarket. The devastation visited on Houston and surrounding areas by Hurricane Harvey was among the most severe in U.S. history, chasing thousands of people out of their homes and confronting thousands with ...

Bedding Today

David Perry

August 22, 2017

ISPA's latest quarterly figures marred by 3 big asterisks

There was no big asterisk on the quarterly bedding report issued the other day by the International Sleep Products Assn. But there should have been. That's what one bedding leader said to me at the recent Las Vegas Market, as we assessed that eye-opening ISPA report, which showed the industry in negative shipment territory. Dollars were down 6.8% in the second quarter and are down 3.5% year to date, while units were down 8% in the second quarter and are down 6.2% year to date. Those bleak results had many bedding leaders shaking their heads in ...
Fall 2017 Ohio Hardwood Furniture Market

September 20, 2017 - September 21, 2017

Harvest Ridge

Millersburg, Ohio, US

Next Conference

September 25, 2017 - September 27, 2017

Nationals Park

Washington, DC, US

High Point Market

October 14, 2017 - October 18, 2017

Downtown High Point

High Point , North Carolina , US
More