News on furniture tradeshows, events and seminars with exclusive previews and live updates on new products and trends.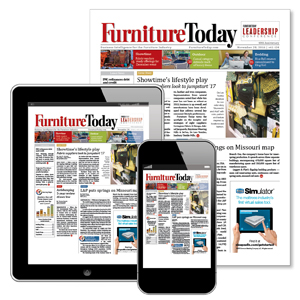 See the digital edition of Furniture/Today, which allows you to flip through the pages, click on any underlined area to visit a website or send an e-mail, search to find content in the magazine, or share pages with your friends. See the latest issue!
Furniture Everyday

Bill McLoughlin

June 15, 2017

An open letter to Amazon's Jeff Bezos

Dear Mr. Bezos, It has become increasingly apparent that Amazon.com is intent on becoming a major player in the furniture business. For the better part of the past two years, our editors have run into your representatives at industry trade events as they scoured the country seeking converts to your platforms. Most recently, one of our editors attended a meeting of furniture industry retailers in which Amazon's representatives announced plans to eliminate your national delivery requirement for furniture sellers in an effort to draw local furniture stores into the Amazon marketplace. You may have seen that story or ...

Furniture Everyday

Bill McLoughlin

June 8, 2017

What it means to lead, and why you should care

If you look up the definition of leadership in the dictionary you find things like, "a capacity to lead; the act or instance of leading." Both of these are defining the thing in terms of itself, creating a meaningless definitional loop, much like defining a circle as, "a shape that has the properties of a circle." You could try googling "what is leadership". You'll find "about 207,000,000" results, a large number of which are pitches for various products promoting leadership books or classes and just as large a number of articles that define leadership by what it ...

Furniture Everyday

Bill McLoughlin

May 25, 2017

And the award goes to ... well, that's up to you. Furniture Today's Annual Leadership Conference, this year to be held Nov. 28-30 at the Four Seasons Resort in Orlando, Fla., will crown three Furniture Industry Leadership Award winners, with both nominations and eventual winners determined by you, the members of the furniture industry. This is an evolving process and builds on our initial efforts at industry involvement in the process at last year's 20th Anniversary Leadership event. In order to ensure meaningful evaluations of comparable organizations, we've divided the program this year into three categories, with ...
Las Vegas Market

July 30, 2017 - August 3, 2017

World Market Center Las Vegas

Las Vegas, Nevada , US

All American Furniture Expo

August 2, 2017 - August 3, 2017

Utz Building, York Expo Center

Lancaster, Pennsylvania, US

Next Conference

September 25, 2017 - September 27, 2017

Nationals Park

Washington, DC, US
More