Exclusive furniture research, surveys and reports, including trends, rankings of top furniture and analysis by Furniture Today's market research staff.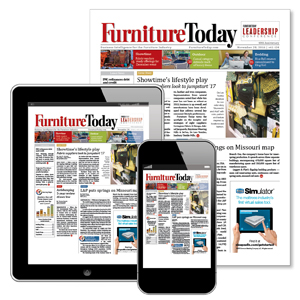 See the digital edition of Furniture/Today, which allows you to flip through the pages, click on any underlined area to visit a website or send an e-mail, search to find content in the magazine, or share pages with your friends. See the latest issue!
Furniture Everyday

Bill McLoughlin

February 24, 2017

What if housing would never again drive your sales?

The common axiom of the furniture business is that housing activity drives furniture sales. When the housing bubble burst in 2008, the furniture industry suffered near catastrophic setbacks, and the uneven recovery of the housing business since then has been a contributing factor in the furniture industry's inconsistent recovery. There was good news in January as purchases of previously owned homes were up 3.3% and overall home sales hit their highest levels since 2007. However, the combination of low housing inventories and rising mortgage rates are serving as a brake on momentum, and expectations are that interest rates ...

Sourcing Strategies by Tom Russell

Thomas Russell

February 10, 2017

A look at the industry's history helps define today's complex trade issues

Reading all the headlines about the threat of tariffs on foreign made goods — China, Mexico or otherwise — got me thinking about what the furniture industry was like before I joined Furniture Today in 2003. Back then, the industry was undergoing one of the biggest shifts it had experienced since it moved from the Grand Rapids region of Michigan to the South in the early- to mid-20th century. Fast forward to the early 2000s, and China had not only become the largest source for imported furniture, but it was also a factor responsible for the shuttering of many U.S. furniture ...

An Insider's View

Jerry Epperson

December 22, 2016

New year may not mean big changes, but it brings hope for improvement

"Just sit right back, and you'll hear a tale, a tale of a fateful election ..." Just before November 8th, I was so exhausted from hearing the political babble that I began to watch reruns of Gilligan's Island and episodes of SpongeBob SquarePants. I can relate to SpongeBob's cynical neighbor, Squidward. We all know that January 1 st is just an arbitrary date, no different from any other day, but there is something refreshing about a new year. Add a new administration, even a controversial one, and we feel like there is hope for improvement and progress in ...
Las Vegas Market

July 30, 2017 - August 3, 2017

World Market Center Las Vegas

Las Vegas, Nevada , US

All American Furniture Expo

August 2, 2017 - August 3, 2017

Utz Building, York Expo Center

Lancaster, Pennsylvania, US

Next Conference

September 25, 2017 - September 27, 2017

Nationals Park

Washington, DC, US
More