News about green furniture production, marketing and retailing. Features on green companies which use eco-friendly manufacturing processes for their furniture.
News from and about Las Vegas builds leading up to market

Amazon, which will have its presence in Vegas, continues to make inroads into furniture. Also, occasional furniture is proving to be a strong category coming into market, with many vendors taking more of a single-item approach. And underscoring all Las Vegas Market news is the recent acquisition of IMC by Blackstone.

See Video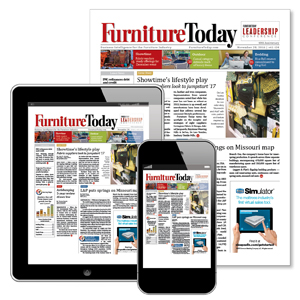 See the digital edition of Furniture/Today, which allows you to flip through the pages, click on any underlined area to visit a website or send an e-mail, search to find content in the magazine, or share pages with your friends. See the latest issue!
Furniture Everyday

Bill McLoughlin

July 13, 2017

A 4-step furniture store survival guide

The first half of 2017 is in the books, and for many it continues to be a struggle. Almost every week there's another story about a second, third, fourth-generation family business throwing in the towel. It's not all gloom and doom however, as a few innovative, forward-looking operators are uncovering new ways into the future. If you'd like to join them, here are four things to consider: 1. Escape the commodity trap Unless you're the low-cost provider, making price the focal point of your selling proposition is no longer sustainable. Treating furniture like any other commodity ...

One Stop Shop

Alex Milstein

July 11, 2017

Mark Kinsley, VP of marketing, bedding group at Leggett and Platt, gave a presentation at the MegaGroup Conference about stepping up your digital and social marketing. The presentation had great nuggets of actionable information, but it was something he said about Facebook that caught my ear: "Ask tough questions, like, does Facebook add value or am I doing this because I'm scared not to? Or because I still think it's free?" Those are tough questions, and they bring up an interesting point. Facebook is a great place to connect with family and friends, catch up on current events ...

Bedding Today

David Perry

July 11, 2017

What happens when online brands face reality of in-store competition?

Online mattress brands are now making their way into brick-and-mortar stores, a development that seems logical as the mattress industry navigates its way through a rapidly changing landscape where bricks are increasingly meeting clicks, and vice versa. But how will those online brands fare when they emerge from the virtual world, where clever marketing and the power of imagination can create compelling images, and face the harsh reality of competitive models? That's an issue that bedding veterans have been discussing for a while now, and it's one we will be following closely in the months to come. There ...
Las Vegas Market

July 30, 2017 - August 3, 2017

World Market Center Las Vegas

Las Vegas, Nevada , US

All American Furniture Expo

August 2, 2017 - August 3, 2017

Utz Building, York Expo Center

Lancaster, Pennsylvania, US

Next Conference

September 25, 2017 - September 27, 2017

Nationals Park

Washington, DC, US
More